TRILIFT Is The Ultimate Solution For Securely And Safely Loading Your Scooter or Power Wheelchair
12.11.2007
I tried 4 different types of scooter lifts for my van & researched many more.After looking at & trying all of the others I happened to find the trilift.I ordered a trilift & sent the others back.It is the handiest piece of equip. I have ever purchased.I can not see why anyone would consider using any other outside the vehicle lift.Thank you so much for developing & selling this lift.
Robert E Jarvis
I just wanted you to know that I am so thrilled with my lift, it has given me a new lease on life. I can get my gogo cart on and off
all by myself . This enables me to do things I haven't been able to do alone in over ten years.
This is the most wonderful appliance I own
Thanks again for your help and the service you provided.
Ronald C. Moss ( Nov 22, 2006 )
Eddie, Just wanted to let you know that I love my TriLift. I works great, and didn't take much practice to learn how to align the triangles up. Sometimes, I lean against the scooter when lifting, if I'm on a little incline. Below I've got a picture of the Amigo Fiesta IV-12 Scooter mounted on my 2004 Ford Escape which is on a 16' Car Hauler trailer to be towed with my motor home....




Ron Moss ...




Ronald C. Moss ( Nov 27, 2006 )
I got to thinking about some of the things I'd mentionred about my TriLift that are plus things and hadn't included pictures showing tohoe, so I went out this morning and took 3 more picture. I hope they are helpful.
I've also at times towed a trailer with my car, and to unhook the TriLift and put on the tow ball for the trailer is a snap to do with the light weight of TriLift. Putting it back on is quick and easy also.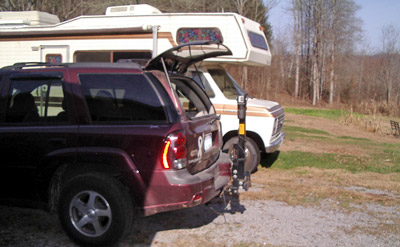 Rear window is up while TriLift is in up position. Easy to put things in and out of back that fits window opening.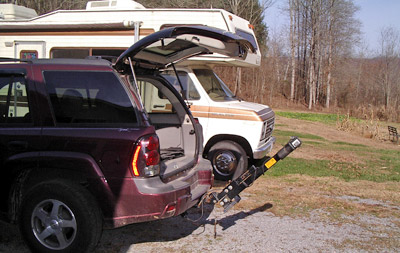 TriLift in leaning back position, and rear door of vehicle open. Note there's plenty of room on either side of TriLift to load groceries and other items. We've even transported 4' X 8' sheets of plywood and foam insulation, with door tied to TriLift in this position. It rode with no problems. Lifts that have ramps on them would get in the way in either folded or down position, but not the TriLift.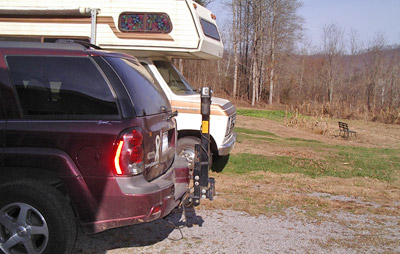 Note, my 1984 "The Establishment" Class "C" motor home (with Ford E350 Van cab and chassis) in the background. That's the one we've towed our vehicle (with scooter docked on the TriLift) to go camping on vacations, and don't have to worry about it at all. If we unhook the tow bar from the vehicle and camper, the scooter is still already on the vehicle where ever we drive. I can even undock the scooter in a campground withe the vehicle still attached to the Motor Home, if we're staying at the campground all the time.
May God bless you and TriLift Abundantly, as it's been a blessing to me and my faminy,
Dick
( Oct 16, 2006 )